Thinkware F770
• 1080p Full HD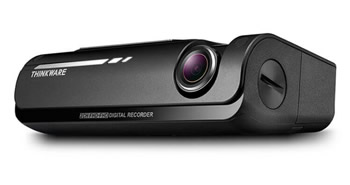 • 140° Wide Angle View
• G-Sensor Incident Detection
• Speed Camera Alert
• Built-in Wi-Fi
• Park Mode Motion Detection *
• Super Night Vision
• Time Lapse Mode
• Win/Mac Viewer
• Mobile App
• Optional Rear Interior Camera
Professionally installed from €360
Thinkware F200 Pro
• 1080p Full HD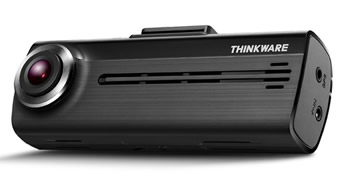 • 140° Wide Angle View
• G-Sensor Incident Detection
• Speed Camera Alert
• Park Mode Motion Detection
• Built-in Wi-Fi
• Format Free
• Win/Mac Viewer
• Mobile App
• Optional Rear interior or exterior Camera
Professionally Installed from €300
Thinkware F70
• 1080p Full HD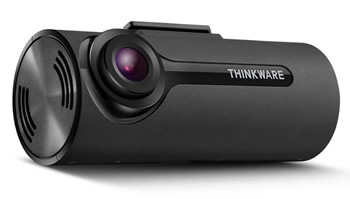 • 140° Wide Angle View
• G-Sensor Incident Detection
• Park Mode Motion Detection
• Speed Camera Alert
• Format Free
• Win/Mac Viewer
• GPS Option
Professionally Installed from €220
All our installations include the Hard Wire kit (not the typical cigar plug on inferior Dash Cams) for Park Mode activation*

Omni Vue 360
Omni-Vue™ & DVR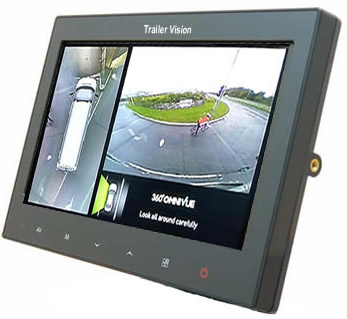 Omni-Vue™, is an innovative 4 camera 'look-down' system, providing operators with a 360 degree view around the vehicle, eliminating all blind-spots.
The easy to interpret display also helps the driver to maneuver in difficult situations. Additionally, the driver can select any of the ultra wide-angle cameras to be displayed simultaneously in the 2nd 7" display RH 'window' (this display window is also triggered automatically, i.e. side-view camera displayed when turning & rear camera displayed when reversing). The system is also supplied with a 4CH DVR, ensuring that any 'incidents', or accidents (real or 'claimed') are recorded, where ever they occur around the vehicle (no recorded blind-spots).
The images from the 4 ultra-wide-angle lens cameras are 'blended' together and presented in a single 'birds-eye' view, which gives the driver excellent situational awareness when maneuvering at low speed, or into difficult locations. All blind-spots are eliminated and cyclists etc are easily seen; the following photo shows a 'clear' side-view mirror & Omni-Vue™ automatically displays the 'blind-spot' (where a cyclist can clearly be seen)
The standard system includes the following components:
• 4 ultra wide-angle cameras (metal case,) and cables (1 x 5m Cable, 2 x 9m, 1 x 18m)
• 7″ Monitor
• ECU
• 128GB SSD DVR (secured), equivalent to 500GB HDD = approx 560 hours of 'high resolution' recording (Max 1TB SSD)
Omni Vue™ Applications: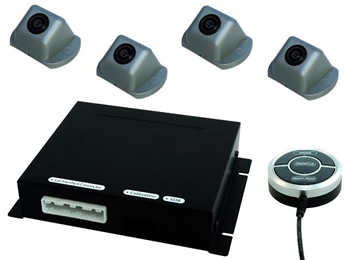 • Busses
• Tippers / aggregate transporters / bulk transporters / mixers
• Refuse vehicles
• Ambulances / fire engines / emergency service vehicles
• Home delivery vehicles / delivery vehicles
• Road sweepers
• Horseboxes
• Motor homes
Price on Application
MEDIA
View the video here of the Omni Vue 360 fitted on the new 2019 Tourismo from Trailer Vision Ireland.